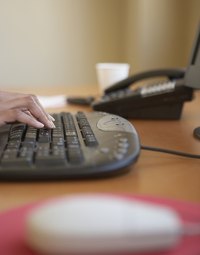 Writing opt-out letters to your existing creditors can keep them from sharing your personal or financial information with other companies that intend to use the data to solicit your business. Start by getting in touch with your creditors and asking for copies of their privacy statements, which typically include directions on how to request an opt-out.
Contact Your Creditors
Address each letter to the company's "opt-out" department. State in the first sentence that you do not authorize sharing or other disclosure of your personal, financial or credit information with third parties or with affiliates of the agency. In the absence of a specific opt-out request, creditors often share consumer information with sister organizations or through marketing exchange agreements with other companies as a way to capitalize on promotional efforts. This is why you may receive unsolicited and "pre-screened" credit applications from companies you have no personal relationship with.
Provide Relevant Information
When requesting an opt-out, include your full name as it appears on your account, and list the specific accounts you want to include in your opt-out. If you have more than one account through the company, such as two different VISA cards, include the individual number for each account in your letter. Add authority to your request by noting you are exercising your consumer rights under the Federal Trade Commission's Fair and Accurate Credit Transactions Act of 2003. Send your correspondence by registered or certified mail and request a delivery confirmation receipt. Keep a copy of the letter and the receipt for your records.
Online Information Brokers
Online information brokers specialize in sharing consumer information considered part of the public domain. While this does not typically include financial or confidential medical information, you may find your address, phone number, age and occupation available in different online venues. While some information brokers have privacy policies that allow for opt-out, there is no law prohibiting distribution of public information. If you have concerns, contact the FTC or your state attorney general's office for guidance and instruction on lodging a complaint.
Telemarketing and Junk Mail
You can opt-out of receiving unsolicited telemarketing calls by registering with the FTC's National Do Not Call Registry. You also can lodge a written compliant about automated marketing phone calls by sending a letter to the FTC outlining your concerns. To reduce unwanted junk mail, complete a form letter to the Direct Marketing Association's Mail Preference Service.