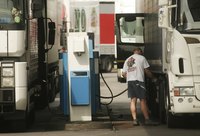 Fuel prices affect the cost of nearly every product on store shelves because of the need for transporting goods. The cost of fuel can be difficult to figure since there are so many varying rates in different locations. A fair fuel rate is determined by using the cost of fuel along the route a load is delivered and the miles per gallon of the particular truck making the haul. Online software is available that shows fuel costs along routes and calculates a truck fuel surcharge.
Obtain the fuel trigger point or basic rate for fuel charges used by your trucking company. This is the standard average cost of fuel that applies to all trucking contracts for your company. Use this fuel rate to determine if customers will have to pay a truck fuel surcharge due to higher prices.
Determine the number of miles the customer's load will travel. Multiply the miles per gallon the cargo truck averages by the number of miles to determine how many gallons of fuel it will take to make the delivery.
Research the cost of fuel along the travel route by using a free online reporting system such as Fuel Surcharge Index (see Resources). Use the pricing reports to determine how much it will cost to buy the recommended number of gallons of fuel for the run. Leave your customer cost at the standard contract pricing if fuel prices are at or below your trigger point.
Subtract your trigger point price from the cost of fuel along the truck route if the route prices are higher. Use the average cost of a single gallon to subtract from the single gallon trigger point to determine the excess cost of fuel per gallon.
Multiply the excess cost per gallon by the total number of gallons needed for the run. Add any applicable fuel tax costs that are not accounted for in the price. This figure represents the fuel surcharge your customer should pay in addition to the standard contract rate to make up for the increased cost of fuel. Add the truck fuel surcharge to the estimated cost and the bill to ensure the customer pays a fair fuel rate for deliveries received.