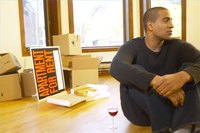 How to Buy Renter's Insurance. If you're renting, your landlord's insurance does not cover your household goods in case of loss. Here's how to protect your possessions.
Things You'll Need
Calculators
Insurance Agent
Personal Organizers
Inventory Sheet
Locate insurance companies that offer renter's insurance by consulting the yellow pages of your phone directory or an Internet search engine.
Contact insurance agents and ask about the terms of standard renter's insurance policies; find out if you need extra protection to insure valuables such as jewelry, art or collectibles.
Provide selected insurance companies with your address, along with a brief description and estimated value of your household goods.
Obtain estimates from selected insurance companies for renter's insurance that will provide coverage for your personal property against theft, fire and wind damage; personal liability for accidents of others on your premises; damage to property of others in your care; and living expenses if you're forced to vacate the premises during disasters or repairs.
Consider buying a "replacement value" policy that will reimburse you for the actual cost of replacing your goods (instead of a depreciated value on used goods) in case of loss.
Compare quotes and coverage levels from different insurance companies and purchase the policy that best suits your needs and budget.