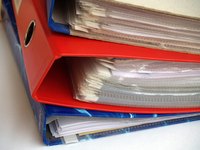 A performance specification template is a document setting out what you require of a product in order for it to perform and last as long as expected. A well-managed company will provide a performance specification document for every product it produces. By using a common template a company will be better able to compare and contrast the performance of multiple products. A good general performance specifications template can be applied to all products the company produces. You can use online examples of performance specification documents as a guide.
Open a word processor document in your chosen software. Save the file as "Performance Specification Template."
Go to "Insert" and add a table. The table should be two columns wide. The number of rows depends on how many criteria you want to add to the performance specification. The table will form the back end of the document but you should create it first. Remember to leave at least one line blank before you insert the table so you can write the document section headers later.
The first row in the left column will be blank. The other rows in this column are for asking questions about the product. Answer them in the column on the right. Title the top row in the right column "Product."
Begin with the basics. Here are some sample questions:
Product name
Version
Designer
How the product looks
Target consumer
Move on to the product's specifications. Take into account how the user operates it, what it is designed to do, how it might integrate with other products, and any unintended uses. Consider the expected lifespan of the product. Add more rows to take into account all of these factors.
Take into account the cost of production, the cost of repairs and recall, and hazards or risks. List possible failures that could lead to a shorter than expected lifespan. What are the possible production levels? What are the anticipated sales? Frame all of these as questions to be answered.
Add a new row for each new question by placing the cursor to the right of the last row and pressing "Enter." To adjust the width of a column or to make a row deeper, hold the cursor over the line you want to move. The cursor will change to two arrows pointing in opposite directions. Hold the cursor down and move it; the line will move with the cursor.
Use your major questions about the product as a guide for section headers in the main document. The table is a summary of the product's performance specifications. The main document is where you expand on them. Leave some space between the headers.