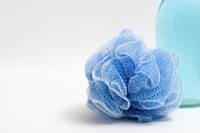 Dry or oily skin can look dark and dull. If you have noticed areas of skin that seem to look darker, such as your armpits, knee caps or shoulders, then using Dove Gentle Exfoliating Body Wash may help to lighten your skin. When dead skin cells build up on top of your skin, it tends to make your skin look darker and dull. Exfoliating your skin will help to remove dead cell buildup and will give you lighter, brighter and smoother skin to shine through.
Wet the area you would like to exfoliate. The shower works best if you would like to exfoliate your whole body.
Run water over your loofah until it is completely wet.
Pour your Dove Gentle Exfoliating Body Wash onto your loofah. Start with a small amount, because you can always add more body wash to the loofah if you need to.
Mix the body wash in to the loofah with your hand until you have worked up a lather.
Run the loofah over your body using slight pressure. Do not push too hard, or your skin may become irritated. Push down just enough that the loofah is able to remove loose skin cells. You will feel the exfoliating beads lifting away the dead skin cells.
Add more body wash to your loofah if needed.
Repeat Step 5 if desired. For best results, exfoliate at least two times a week to keep your skin looking lighter.
Rinse your skin with lukewarm water. Do not use hot water because it may irritate your skin.