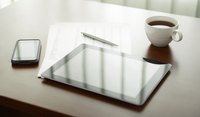 One of the first things you hear when you invest in a network marketing business is that "the money is in the list." Typically, this adage is a precursor to instructions to start with your friends, relatives and associates, but even if you're popular and have a huge family, this list is finite. Inevitably, you must expand your potential market, which means building a cold contact list for your network marketing business.
Do Your Homework
Identify your market and learn as much as you can about it. If you're marketing to consumers, consider where they live, work and spend their spare time. Determine whether they are likely to be parents and how they typically spend their discretionary income. If you're marketing business to business, study the industry thoroughly. Create a composite of your desired customer; it will prove invaluable to pinpointing your prospects' challenges and clarify how your product meets those needs. Your ability to demonstrate that you understand your prospects' concerns will increase their receptivity to what you have to say.
Clients and Connections
Your current customers can be extremely helpful to building a cold contact list for a network marketing business. People like to help people, so don't hesitate to ask for referrals. Almost everyone knows someone else who can use a product he is happy with. Your social network is also a good source of referrals. Your online friends generally think highly of you and want to see you succeed in your effort, and they can provide a wealth of new leads to contact.
Log On
Not only has the Internet changed the way consumers and businesses look for products and services, but it has provided marketers with new techniques and tools for increasing their business's exposure and building a cold contact list. Position yourself as an industry expert; use your blog and social media to consistently provide your potential customers with information that increases their knowledge and simplifies their life. The effort will increase your credibility, establish you as an expert and organically increase your potential market.
Leads for Sale
As your business grows, your efforts to build a cold contact list might be strained. To ensure a constant flow of prospects into your sales pipeline you may elect to use one or more of the hundreds of companies that sell targeted leads. Cost, quality and market vary widely; most of these companies cater to specific industries or niches. Do your research; talk to business associates, read the reviews and study the scam reports before buying a list.