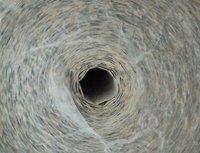 Plastic recycling rules keep consumers in a state of exasperated confusion. Plastic wrap is used to wrap food, electronics, furniture and boats. Plastics are difficult to recycle because there are seven different resins, and except for No. 1 and No. 2, they can't be mixed. Plastic wrap resin is expensive to extract, therefore recycling programs rarely exist.
Check with your local recycling service and find out what plastics can be recycled. Since rules vary from service to service, check with adjacent municipalities as well. These services usually have websites with very specific lists.
Wash the food plastic wrap and reuse it yourself when possible. Food-contaminated plastic wrap and plastic bags cannot be recycled and should go directly in the trash.
Be creative and use alternatives in the future. Buy reusable containers with lids for your sandwiches and leftovers. Zip-top bags can be washed and reused. If possible, avoid buying shrink-wrapped foods and other items.
Save the large, heavier pieces of plastic wrap and use it as packaging material next time you have to ship something. Check around for new recycling programs; some states have initiated programs for collecting the shrink-wrap from boats.