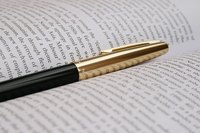 Evaluation is an important aspect of businesses, organizations and educational establishments. While anyone can be asked to evaluate a certain aspect, from the cleanliness of hospitals to the effectiveness of teaching methods, it is important to train evaluators. In turn, these training programs need to be monitored to ensure the right content is being taught to those learning to evaluate properly. A monitor watches the training to check processes are being followed and to ensure trainees do not cheat.
Request as much information as you can on the evaluation training taking place. You will need to know the curriculum, the resources needed, all rules regarding what the students are allowed to do, wear and use. Ask the institution/business to provide you with their teaching guidelines.
Produce a checklist based on the information provided. The checklist will need to include things that must be done. For example, did the teacher take roll call? Did they wear the appropriate uniform? Were all the topics in the curriculum covered? Allow space for comment boxes, too. Divide these boxes into areas such as overall impressions, student participation, teacher infringements and student infringements.
Compare what you are monitoring to the checklist and information you have. Pay close attention to how the teacher is interacting with the students; are they participating? Is the teacher feeding answers? Is there any sign of cheating? Was everything in the curriculum covered?
Compose a report based upon your findings and submit it to the relevant authority. This report should cover the raw data, an analysis of the good parts and the bad parts, and suggested improvements.