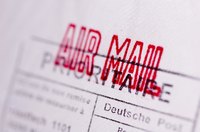 Whether you are sending a parcel as a gift or to a customer out of the country, there are some steps you must take to make sure it arrives safely at its destination. International shipping is more expensive than domestic shipping and your parcel will travel a long distance and may be exposed to variable environmental conditions, so be sure to pack it neatly and securely to avoid unnecessary delays or failure of delivery. There are a few extra things to consider when mailing a parcel internationally that do not necessarily apply to domestic mail.
Things You'll Need
Box or shipping envelope
Mailing tape
Black marker
Customs form
Instructions
Pack your item in a sturdy box or envelope designed for shipping and secure it with enough tape to make sure it open during shipping. If you're reusing a box, remove or completely cover all previous labels and marks with a black marker. Address the parcel to your recipient and include your return address. Write neatly with a marker or print out address labels in uppercase and cover the recipient's address with clear packing tape so it won't smear during shipping. Mark your package as fragile or perishable if necessary.
Fill out a customs form. A customs form is required for all non-letters being mailed internationally and is an itemized list of the contents and value of items inside of your parcel. Select a customs form based on the weight of your package and chosen method of shipment. You are required to include your name and address as well as the name and address of the recipient.
Take the package to your local post office or shipping store such as The UPS Store or FEDEX. Select a shipment method; the options available and the price for shipping will vary depending on the size, shape, weight and destination of your parcel. Choose your option depending on the speed at which you need delivery to occur and the price you want to pay. You can also add options such as package insurance coverage, delivery confirmation with return receipt, registered mail and restricted delivery.