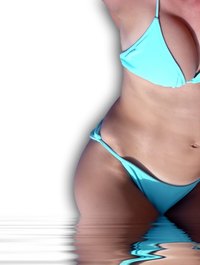 Dark underarms can be really embarrassing, especially if you're fair skinned. Skin under the arms becomes dark for many reasons. First, some deodorants contain harsh chemicals that damage and darken the skin. Excessive sweating and tight clothing both can also cause the skin to become dark. If you suffer this problem, you have several options to solve the problem; most of these products can be found at your local supermarket.
Things You'll Need
Lemon
Baking soda
Coconut oil
Loose clothing
Natural deodorant
Wax
Rub a piece of lemon under both arms and leave to dry. The acidity in the lemon will break down and remove the dead cells that are causing the darkness.
Apply baking soda to the armpits after each bath or shower. This can help lighten the area. Wash the baking soda off after about 10 minutes.
Wash the arms with coconut oil. Coconut oil is excellent for the hair and skin. Wash the area with the oil twice a day and you will see a notable lightening of the area.
Wear lighter or looser clothing. Dark underarms can be caused by excessive sweating and clothes rubbing against the skin. Wearing lighter clothes that do not cause you to sweat can help prevent dark patches forming.
Change deodorant. Deodorants are full of chemicals and many are harmful for your skin. Try changing to a deodorant with natural ingredients or use an antifungal powder or talcum powder instead.

Wax instead of shaving to strip away the dead cells and make you sweat less.