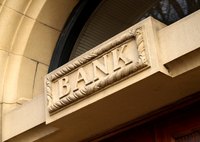 Core deposits are a bank's regular customer base and include traditional accounts such as the checking, saving and money market accounts. It also includes retail certificates of deposit (CD) less than $100,000. Higher core deposits boost a bank's performance by providing stable and predictable funding and indicates strong liquidity of a bank. Unlike non-core funding such as brokered CD's, CD's greater than $100,000 and borrowings, core deposits are less vulnerable to fluctuations in short-term interest rates. The strength of a bank's core deposits results in a positive effect on the interest rate risk profile of the bank.
Increase the competitive products that are offered to your customers. Offer high yield reward checking accounts to increase your core deposits and liquidity. Reward checking accounts carry higher interest rates than the traditional checking account, making them more attractive to customers. Include terms such as a minimum level of monthly debit card usage or a minimum monthly deposit. Attract customers by offering features such as no monthly service charges and overdraft fee protection.
Enhance the services that are available to your customers. Streamline the bank's deposit process by allowing customers to make electronic deposits through a Web connection from the comfort of home. Offer online banking, electronic bill pay and other self-service options. Provide convenient store locations and extend the hours of operations to allow for the flexible needs of the customer. Provide high quality customer service to retain current customers and to attract new ones.
Enhance the bank's marketing strategies to current and prospective customers. Implementing a direct mail program to target residential movers may be successful as well as advertising through the traditional channels such as print, radio and television. Offer referral incentives to current customers to recruit family and friends to open an account. Market on-site to current customers.