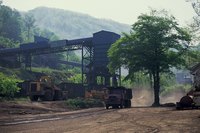 Coal mining, a major industry in West Virginia, is dangerous, and workers who devote their lives to it can suffer from serious health problems, such as black lung disease. Black lung disease obstructs airways, causing a severe cough and making it difficult to breathe. Black lung disease is preventable and treatable, but if left untreated, the damage is irreversible. The federal government offers benefits through the Division of Coal Mine Workers' Compensation to help pay for medical bills or related expenses for those who suffer from the disease.
Establish who will file the claim. Former or current miners are eligible for monthly benefit payments. Should the miner die from black lung disease, surviving spouses and minor children can receive benefits.
Go to the U.S. Department of Labor's Office of Workers' Compensation Programs website at http://www.dol.gov/owcp/. Scroll down the list, and choose "Division of Coal Mine Workers' Compensation." Underneath "Guidance for...", select "Filing a Claim."
Choose the option that is appropriate for you. Individual miners should choose the first option, survivors choose the second option and individuals filing on behalf of someone else choose the third option. Each link will take you to an informational page that describes the rules for applying for benefits and which forms you need to fill out. Miners will need to fill out forms CM-911 and CM-911a; survivors will fill out forms CM-912 and CM-911a; and those filing on behalf of another must complete form CM-910 after being approved through form CM-787.
Click on the highlighted links to the application forms from the informational page and fill out the form. Many of these are submitted electronically and cannot be saved to your computer. To make sure you have an accurate record of your claim, print the forms prior to submitting them. You will be asked about your symptoms or disabilities and your work history.
Provide the agency with any additional documents that help verify your employment. The Social Security Administration will review the information, but providing documentation, such as W-2 forms, can help speed up the process.
Undergo a complete pulmonary evaluation. Once your application enters the processing stage, the district office will contact you to make an appointment for an examination. West Virginia is part of District 3 and has two offices, one in Charleston, which covers Boone, Cabell, Fayette, Kanawha, Lincoln, Logan, McDowell, Mercer, Mingo, Monroe, Putnam, Raleigh, Summers, Wayne and Wyoming counties, and one in Parkersburg, which covers counties not overseen by Charleston. If you refuse to be examined by an agency physician, your benefits may be denied.
Wait for the Schedule for the Submission of Additional Evidence. This is a letter that will inform you that you have the right to submit additional evidence, such as a doctor's diagnosis and specialists' claims, that would further prove your disability and right to benefits. At this time, consider consulting an attorney to make sure you have all of the required documentation for the best results. In most cases, the employer is responsible for the attorney's fees, and if your claim is denied, you are still not responsible for those fees.
Complete a second examination by your employer if required. Just as with the government examination, the employer has the right to ask that you be examined by one of their physicians prior to granting your benefits. As with the agency exam, if you refuse to participate, your benefits might be denied without further consideration.
Finish submitting your documentation and wait for approval. Once your application has been approved, the district office handling your claim will contact you to discuss any questions or concerns you may have.