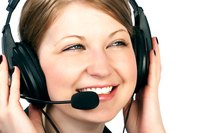 Customers are the prime reason for any company's success. Customer complaints, therefore, should be accorded top priority and attended to immediately. Customer complaints should be treated as feedback on your product or service. They should spur you to spot the problems in manufacturing or service delivery processes and take immediate remedial measures. Customer-centric initiatives that focus on providing a valuable product or pleasant experience will decrease customer complaints gradually over a period of time.
Create a customer service department to handle customer complaints. Staff in the department should be trained to be polite, cheerful and listen attentively to customer complaints without interruption.
Empathize with the customer for the inconvenience caused. Offer to contact the customer with a solution within a specific timeframe.
Make a periodic assessment of customer complaints and identify the root causes. Conduct a meeting with all affected departments – such as production, quality control, sales and marketing – to work out solutions for the problem.
Educate customers about the proper methods of using a product and/or service and the benefits. This can be done by giving a guidebook at the time of purchase, putting an online manual on your company's website or asking customer service personnel to call and inform customers about the do's and don'ts. The majority of customer complaints are due to a customer's incorrect usage, inadvertent error or unreasonable expectation of a product or service, so this can be a key step toward decreasing complaints.
Follow up with customers periodically to find out their level of satisfaction and unmet needs, and request that they provide suggestions for improvement. This will not only decrease customer complaints but also enhance customer loyalty and boost sales and profits.
Ensure that there is constant communication and regular interaction among various departments in your company for better coordination and reducing the time of resolving customer complaints. Offer incentives and gifts to staff who successfully resolve a customer complaint.
Give authority to employees having direct interaction with customers to make an independent decision if it contributes to rapid resolution of customer complaints. Devise guidelines that will make employees strictly accountable for their actions.