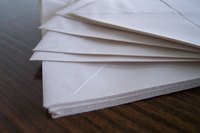 Business proposal letters are intended to show an in-depth knowledge of the business, and how it can benefit from your services. A business proposal letter typically provides the same content as a cover letter; it presents information in a manner that makes your proposal attractive to the business. Use this type of letter to get noticed.
Outline the current challenge the business is facing in the first paragraph. Read industry reports, company information releases and other data to thoroughly research and learn about a company's present and upcoming needs. Cite how you learned about the company's plans and goals.
Inform the business of the steps you would implement to correct a problem or achieve a goal. For example, if the company's problem is low sales, detail your plans to increase sales. Suggest tapping into other markets, promoting their product in a different way or offering a special discount.
Outline what resources the business could utilize to correct any problems. Discuss how your experience and expertise is beneficial to the company. Include your contact information.
Identify the person that needs to receive your letter, and make sure it is addressed specifically to them. Research and network until you learn the name of the appropriate contact.