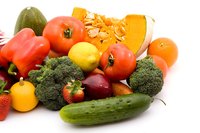 Losing weight through crash diets can cause nutritional deficiencies and osteoporosis, and can trap you in a yo-yo dieting cycle. To rapidly lose 15 pounds of fat, you should adjust your lifestyle by increasing your activity level and giving your diet a makeover.
Give yourself a little over seven weeks to lose 15 pounds The MedlinePlus website recommends you lose no more than 2 pounds per week by cutting your daily caloric intake by 1,000 calories since 1 pound of fat has 3,500 calories.Keep in mind that calories can be reduced through diet and burned through exercising.
Start a cardiovascular interval exercise routine or adjust your current cardiovascular exercise by adding intervals into it. Switch back and forth from working out at a maintainable intensity to high intensity for several minutes. Complete 30 to 45 minutes per day, three days per week. MayoClinic.com states that interval training burns more calories than steady cardio, resulting in faster fat loss and it is less boring.
Strengthen and increase muscle tissue by incorporating weight training exercises that train your entire body. Muscle tissue sustains itself by using a lot of energy and therefore it boosts your resting metabolic rate. You'll burn fat all day long.
Make smart dietary choices. Eat vegetables and fruits for fiber and carbohydrates. Consume protein from lean sources such as turkey, chicken and fish. Avoid fried foods, sugar and processed products. Cook foods yourself so you can control the ingredients and portions. Use heart-healthy unsaturated oil such as olive oil for cooking.
Feed your body constantly throughout the day so you force your metabolism to stay alert and active. Eat up to six times per day but make sure to eat small portions. Cut your breakfast, lunch and dinner in half so you have six smaller portions and divide these over the day.
Give your metabolism a boost by drinking three to five cups of green tea daily. Green tea contains catechins which according to Colonhealth.net increase your metabolism so you burn 70 more calories per day.