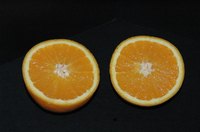 When bleaching your skin, it's important to do it safely. Many products on the market contain harsh chemicals. These can permanently damage your skin with misuse, or allergic reactions. A safer alternative is bleaching your skin through natural means. One such method is by using orange peels. Orange peel mixtures are safe, natural and cheap. You can use orange peel bleaching mixtures to lighten blemishes and scars, or even the skin on your entire body. Because the ingredients are all natural, it's safe to use daily.
Things You'll Need
Remove the fruit from two oranges and allow the peels to dry in the sun for approximately one week. You'll know when the peels are dry enough, because you'll be able to easily crush them by hand.
Crush the orange peels, by hand, into a bowl. Continue crushing the peels, until you have a uniform powder.
Pour some milk into the bowl with the orange peel powder, and mix it with a spoon. The amount of milk will vary, depending on the size of the oranges, and how dry they are. You'll likely need a few tablespoons. Stir in just enough milk to make the mixture the consistency of a thick paste.
Apply a thin layer of paste to your skin and allow it to dry. It will take about 20 to 25 minutes.
Rinse your face with cold water.
Store any leftover paste in a covered container in your refrigerator.
Apply this mixture daily, until your desired results are achieved.