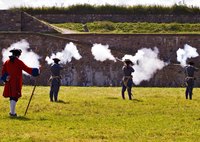 White powdered wigs were made popular by French King Louis XIII, who went prematurely bald, explains Tara Maginnis, author of "The Costumer's Manifesto." Because bleaching wasn't successful at producing light-colored wigs, powders were used instead. Blue, pink, yellow and violet colors were once in fashion until King Louis XV ordered that men use only white or grayish powder on their wigs. You can produce your own powdered wig for plays, costume or theme parties.
Things You'll Need
Drawing or photo for reference
6- to 8-inch long strips of wig hair from an old wig or wiglet
½ yard of netting
1 yard of bias tape
Hairnet
Needle
Thread
A head form that can bear pinning
14 inches of boning
Comb
T pins and hair pins
Curling iron
Hairspray or hair gel
10 inches of narrow elastic
Decorative ribbon
Chalk
Powder
Makeup brush or powder puff
Making the Wig
Place the netting around the head form and pin it into a head-cap shape. Stitch the folds you make. Place the netting on the person meant to wear the powdered wig and mark their hairline on the cap with chalk. Cut the netting 1 inch below the chalk mark.
Sew bias tape around the head cap edges and sew the boning into the temple portions and back corners of the head cap. Use 3-inch pieces of boning at the temples and 4-inch strips in the back points.
Sew the hair strips onto the head cap starting from the bottom. Use your reference drawing or photo to determine the direction of the strips at key points such as the hairline and temples.
Comb out the hair and then curl and pin it to match your reference drawing. Place it on the wearer and adjust it as needed.
Sew loops along the head cap perimeter and thread the elastic band through them. You may sew in a small comb in the forehead region to help the wig stay in place when it's worn.
Attach a ribbon or wig bag to the back of the wig. Wig bags were often made of decorative ribbon and kept the oiled and powdered hair off clothing.

Powdering the Wig
Apply hair gel or fragrant oil to your wig.
Use fireplace bellows to powder your wig the traditional way. Have the wearer cover his face with a paper cone and use the bellows to blow powder over the wig. Alternately, you can blow powder from your hand all over the wig or use a makeup brush or powder puff.
Shake the excess powder from the powdered wig.