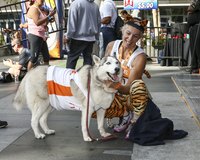 Business owners have a variety of events they can sponsor or create to promote their businesses, with each offering short- and long-term benefits to the company. Determining which event to choose based on your finite marketing budget comes down to calculating the return on your investment. Measuring the success of any event should include analyzing both the financial and branding benefits to your company.
Set Metrics
Determine what your desired outcomes for the event are. These can include profits made from the event, total media impressions made on customers and potential customers, leads and new clients generated by the event, the cost to reach customers and potential customers, increased website traffic, and the impact the event has on customer perception of your product, service or company.
Dollars and Profit Earned
One of the most common measurements of an event's success is the amount of money earned from it. This can come from direct sales or post-event revenue you generate. To determine your hard return on investment from an event, subtract your costs from your revenue. Your expenses include not only the hard costs you had to hold the event, such as room rental, tables, tickets, posters, food and insurance, but also overhead expenses. For example, if you can calculate the amount of staff time devoted to planning and running the event, assign a dollar value to that to get your true ROI.
Target-Market Impressions
Businesses hold events to spread the word about their offerings, and the number of people who attend, hear and read about your event is a measurement of its success. Marketers use the term "impression" to refer to any occurrence of a person hearing or reading about your event or attending it. If a person reads about the event in your local newspaper, hears about it via a radio spot, and then attends the event, you receive three gross impressions and one net impression. Calculating the number of gross and net impressions an event delivers isn't an accurate science, but the process can help you determine if a particular event meets your success criteria. Track your website statistics to determine if you can tie any keywords used to find your site or referral visits directly to your event.
New Customer Contacts
An event might not be worth your while if only your existing customers attend. If the event doesn't spur them to increase their spending with you, your marketing dollars might be spent better elsewhere. One way to measure the success of an event you're involved with is the number of new or potential customers you can reach. These customers expand your market share and can increase your business exponentially. Track customer leads you generate for several months to a year, depending on what you sell, to determine conversion rates attributable directly to your event.
Cost Per Thousand
If you have the ability to sponsor several events that will result in similar revenues, impressions and new-customer touches, a key measurement of an event's value will be your cost to reach each person. The term "cost per thousand" refers to your expense to reach 1,000 people and helps you compare events with different numbers of attendees and expenses. For example, if you sponsor a 10K race that attracts 5,000 people and your sponsor fee is $1,000, your cost per thousand, or CPM, is $200. If your cost to sponsor a concert that attracts 2,000 people is $500, your CPM is $250. The more accurately you can predict gross and net impressions, the more accurate a CPM you can calculate.
Brand Impact
Use pre- and post-event surveys and focus groups to determine the impact an event has on your company's brand image. Businesses sponsor some events simply to generate goodwill about the company. Sponsoring a charity golf tournament, for example, might not generate any profit or attract hundreds of people, but the media coverage might net you increased customer loyalty. Create a list of questions for pre- and post-event surveys and focus groups that will show specific changes in customer awareness, perceptions, preference or loyalty.