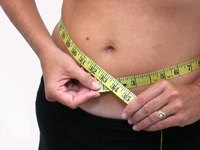 Jiggly fat can appear almost anywhere on your body, including your arms and stomach. Trim the fat on your body by following a few steps to become healthier and to gain energy. Cardio and a healthy diet are the key to lowering your body fat. In addition, tone the fat on your body by starting a weightlifting routine. Remember to include abdominal crunches and push-ups as well.
Analyze your diet and cut out junk food. Stop eating processed foods by sticking to a diet of lean meats and fresh vegetables. Cut out white foods such as white bread, flour, pasta and sugar.
Examine the liquids you consume. Cut back on soups rich in sodium such as Ramen and stick to heart-healthy homemade soups. Avoid sodas and increase your intake of water.
Eat breakfast every morning. Choose a lean meal with protein such as two eggs with cheese and two slices of turkey bacon. Make a meal that fills you adequately because your body needs fuel to burn off fat.
Start an exercise routine that includes a daily cardio workout. Walk everyday for 30 minutes and run three times a week -- this will get your heart rate high for 20 minutes.
Lift weights to work your muscles -- because muscle burns fat. Bench press three sets of 10 reps, at least three times a week. Use enough weight to create resistance but not so much to strain your muscles.
Perform the bench press, shoulder press and squats three days a week to complement cardio. In addition, do 50 crunches and 30 push-ups three days a week to tone muscle and tighten your skin.