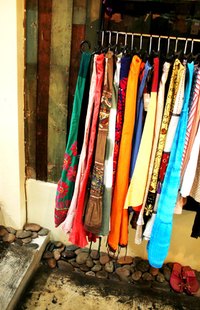 Retail owners save money by buying clothing in bulk at wholesale prices that are significantly lower than retail prices. Finding distributors that are close in range and selling the product you want can cut down on operational cost and provide you with more cash to buy more merchandise. If you're a children's clothing retailer and own a shop, store or boutique and are looking for wholesale sellers and distributors in or around New York, there are several options like guides and directories that can help you connect directly to the marketplace nearest you.
Check out MacRae's Blue Book for a comprehensive directory of wholesale manufacturers serving New York. MacRae has served as an industrial directory since 1893, and provides info on manufacturers, addresses, phone numbers, websites and a brief breakdown of what the companies have to offer.
Visit the website for James Girone's Guide to Wholesale Children's Clothing and Wear. The website is an online resource guide that focuses on connecting buyers and sellers of wholesale clothing. It features new sellers on a daily basis and provides their visitors with directories, business news about the retail and apparel industries, retail and apparel statistics, and trade show and markets information. You can search for sellers around the world or sellers specific to one area.
Go to Eastern Off-Price's Showroom in New York or check out its websites. Established in 1947 as a small storefront off a little street in New York, Eastern is now a large wholesale seller of off-price, closeouts and liquidations of children's clothing.
Scout the local flea markets throughout the city. Look for wholesale sellers wanting to cut storefront expenses by opening up shop at local flea markets. Guides like Time Out New York put together a list of best flea markets in the city, while Keys Flea Market.com composes a list of flea markets in and around the tri-state area accompanied by hours of operations and a brief breakdown of what is sold.