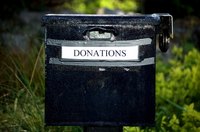 Charitable organizations, such as the Red Cross and Salvation Army receive special tax-exempt status from the Internal Revenue Service. The tax exemptions, which allow the group to receive tax-deductible contributions, also extend to a wide variety of nonprofit groups (also known as non-governmental organizations or NGOs), such as the Sierra Club and Legal Aid Society. As a condition for this special tax status, nonprofits must file an annual financial statement with the IRS. This report, known as a Form 990, is publicly available and provides a wealth of information on the income of a charity or NGO; its executives, key personnel and the way its finances are disbursed.
Check an organization's status at IRS.gov. The IRS publishes a regularly updated report, "Publication 78 -- Cumulative List of Organizations described in Section 170(c) of the Internal Revenue Code of 1986," which lists tax-exempt charities and nonprofit organizations that are eligible to receive tax-deductible contributions. You can search an online version of Publication 78 at the "Search for Charities" page of IRS.gov. Simply enter all or part of an organization's name in the search box to see if it's listed as a tax-exempt organization.

Request a Form 990 directly from the charity or nonprofit group. Contact the group directly to request a copy of its most recent Form 990 detailing the group's finances. Form 990 is a public document and most organizations will provide a copy upon request.
Obtain an online copy of Form 990 from GuideStar.org. GuideStar specializes in compiling information on nonprofit groups. You need a subscription to the site to access some of GuideStar's information, but you can retrieve a Form 990 for any group at no charge.
Search on the organization's name and click the tab for "Form 990." Then, register for free at GuideStar in order to obtgain the full report.
Retrieve an online copy of Form 990 from the Economic Research Institute. ERI is another organization that studies nonprofit groups and provides online access to millions of Form 990s. Enter the organization's name at the ERI Form 990 search page and then click on the "Form 990" tab to obtain a PDF copy of the actual form. It is not necessary to register or pay a fee to retrieve a Form 990.