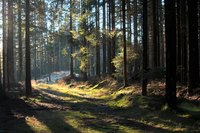 Among other forces, demand for wood pulp for the manufacture of paper helps drive the extraction of trees from forests. Each American uses the approximate equivalent of one 100-foot-tall tree in paper and wood products per year. Paper recycling can save energy and resources while creating quality products. Recycling one ton of paper saves 17 mature trees. In the paper recycling process, used paper is manufactured into new products. Recycling paper to prevent deforestation requires participation in each step of the recycling loop.
Sort recyclable paper out from your household or business waste on a daily basis. Most types of paper and cardboard can be recycled as "mixed paper" in most cities. Paper products that usually cannot be recycled include products contaminated with food residues, waxed paper or cardboard, carbon paper and thermal fax paper.
Collect recyclable paper in a bin for curbside pickup or in bags or boxes for delivery to a recycling transfer station. Inquire about specific requirements for paper recycling in your municipality. Most areas require that cardboard boxes be flattened. Staples in paper are usually okay.
Call your town or city office to ask when recyclables are picked up or, if curbside pickup is not offered, where you can bring paper and other recyclables. Put your recycling bin out for pickup on the designated day or bring the materials to a drop-off location.
Purchase recycled paper and other products to close the recycling loop. Consumers do not directly participate in the manufacturing phase of recycling, when reclaimed materials are turned into new products. However, when you purchase recycled products you help increase the demand for recycling, which drives the process forward.
Look for products with a high percentage of postconsumer content, which indicates they contain paper that has been used by consumers. Paper can be labeled "recycled" even if it contains leftover materials from the manufacturing process that have not actually previously been a consumer product. You can find postconsumer material in paper towels, toilet paper, newspaper, printing and copy products and even in types of insulation, wallboard and kitty litter.