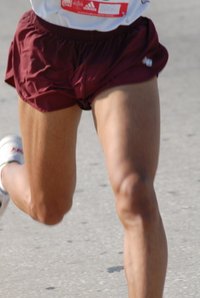 It takes some time and dedication to build lower body mass. The quadriceps, glutes, hamstrings and calves are the main muscles you'll need to focus on building up in order to gain mass. You'll need to do weightlifting exercises for your legs and maintain a diet conducive to gaining mass. Neither diet nor exercise should take priority over the other; they are equally important.
Things You'll Need
Do a lot of squats, which are the best exercise for mass building. Squats work the largest amount of lower body muscles at the same time, including the glutes, quadriceps and hamstrings. Bend with your knees as if you are going to sit down in a low chair. The butt should be protruding as if it were going to meet the chair while the chest stays over the knees. You can do this exercise using your own body weight, or you can place a barbell across your shoulders for extra resistance.
Do leg curls on the machine for hamstring building. You'll need access to a gym or a leg curl machine at home. Lie on your stomach with your ankles under the pads of the machine. Adjust the weight appropriately; it's a good idea to test out a couple of settings before beginning a set. When you are ready, simply curl your legs up toward your back. Slowly lower your legs to the starting position for one repetition.
Build up your quads with lunges. This exercise is particularly good for the quadriceps and the glutes. Stand with feet hip width apart, then move one leg forward a couple of feet. Slowly bend both knees until you end up almost kneeling on the floor. Stand back up for one repetition. Switch legs after a set. If you need more resistance, place a dumbbell in each hand at your side or hold the dumbbells on your shoulders.
Work your calves with calf raises. Stand with legs hip width apart. Support your weight while rising up to the ball of your foot only. Your heels should be off the floor completely. Slowly lower for one set.
Start slow and build your way up. If you aren't used to exercise, you shouldn't start with weight training every day of the week. Start slow with only two weight training sessions a week and add a day when this is no longer challenging. Likewise, start with a lower amount of weight, sets and repetitions. Using too much weight or doing too many sets or repetitions can cause serious injury if your body is not prepared for it. As a beginner, you'll need more recovery for your muscles to catch up to your routine.
Get both aerobic and anaerobic exercise. Building mass doesn't just come from lifting weights. You'll need to burn fat in order for those muscles to show up. It is possible to have great muscles that are hidden under layers of fat. Cycle, swim, jog or play a sport such as tennis or soccer to keep your muscles lean.
Change your eating habits to help your body build and show off the mass. Eat more calories, but not more junk food. Whole foods, or foods that are largely unprocessed or refined, will help you achieve a lower body fat so the muscles you do build show up better. Whole grains, fruits and vegetables are examples of whole foods. Eat more protein from meat, poultry, fish and eggs. Proteins will help those muscles build up faster. Eat carbohydrates to help give you energy for your workouts.