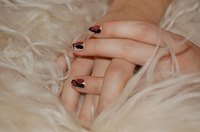 Nail art designs are a popular fashion statement for many women, from stripes to flowers and other designs. You can go to a nail salon to get your nails done, but you can save time and money and get the same professional results by following a basic process. For a fun, multicolored nail design that adds depth and interest to your nails, you can paint your nails by dipping them in swirled nail polish.
Things You'll Need
Various colors of nail polish
Plastic container
Toothpick
Nail polish remover
Cotton pads
Cotton swabs
Pour equal amounts of various colors of nail polish into a plastic container -- the nail polish will be hard to remove from the container, so choose one you can discard of afterward. Stir the colors together with a toothpick. You should see streaks of both colors evenly swirled around in the container.
Dip one finger carefully into the nail polish mixture by placing it on top of the liquid and turning it from one side to the next, evenly coating the entire nail.
Repeat this on the rest of your nails.
Dab a small amount of nail polish remover onto a cotton pad and rub it over your fingers around the area of each nail to remove any nail polish from around your nails.
Pour a small amount of nail polish remover onto a cotton swab and carefully remove any leftover polish from around your nails. The small size of the swab allows you to maneuver in closely to the nail without removing any polish from your nails.