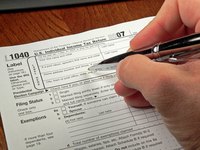 A taxpayer is eligible for the elderly or disabled credit on a tax return if the taxpayer is 65 or older or disabled and the taxpayer's nontaxable Social Security or other nontaxable pension are below certain amounts. Internal Revenue Service form Schedule R allows the taxpayer to determine eligibility and to compute the amount of the credit. Income that is non-taxable will reduce the amount of the credit. The credit is not available to single taxpayers with adjusted gross income over $17,500. It is not available to taxpayers filing jointly with adjusted gross income over $25,000 even if both are otherwise eligible for the credit.
Download IRS forms Schedule R and Schedule R Instructions.
Determine your basic eligibility for the credit. Questions 1 through 8 of Schedule R ask basic questions about the taxpayer's age and whether the taxpayer is retired due to a disability. It also asks whether the taxpayer is filing jointly or individually.
Check the box in Part II of Schedule R if you previously received a physician's statement of permanent and total disability. Check the box if you were unable to engage in any substantial gainful activity for the tax year. Skip to Part III if you are over 65 years of age. In order to qualify for the credit, you must be over 65 or suffer from a permanent and total disability.
Request a statement of permanent and total disability from a physician if you are under 65 years of age and cannot check the box in part II. Ask the physician to complete the form on page R-4 of the instructions.
Calculate total income from pensions, annuities, or disability income you receive. Include the spouse's income, if filing jointly.
Determine the nontaxable part of Social Security benefits and nontaxable part of veteran's and railroad retirement benefits treated as Social Security benefits.
Complete schedule R with the information gathered. Add together each of the items of income and calculate the credit.
Attach the completed Schedule R form to IRS form 1040 or 1040A.