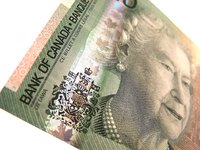 With the improvements in print technology comes improvement in counterfeit bills. Counterfeit Canadian bills do not look like Monopoly money; they are difficult to spot and can sometimes look exactly like a legitimate bill. The difference is, legitimate bills are equipped with numerous safety features that most counterfeit bills do not have. Newer Canadian bills come with even more safety features than old bills. Newer bills are defined as $20, $50 and $100 bills produced in 2004 and later, $10 bills produced in 2005 and later and $5 bills produced in 2006 and later.
Touch the "Bank of Canada" letters on the front of the bill. The letters of legitimate Canadian bills are raised and feel differently than if you were to run your fingers along other letters on the bill. The corresponding bill denomination on the right bottom corner of the bill is also raised.
Look for a combination of tiny red and blue or red and yellow threads along the back and front of the bill. "Bank of Canada" also appears randomly throughout in newer bills.
Tilt $5 and $10 bills older than 2005 toward the light. Those bills have a string of vertical maple leaves to the right of the portrait. The maple leaves' appearance change to gold when you tilt the bill toward light. Newer bills all have a watermark in the location of the old maple leaves. When you tilt the newer bills to the light, a tiny version of the bill's portrait appears in the watermark space.
Lift a new bill to the light. Look at the right side of the bill. You should see a vertical line of dashes appear. The color of the dashes changes from green to gold when you tilt the bill.
Hold the bill to the light and look at the space next to the watermark. The corresponding bill denomination will appear in newer legitimate bills.
Tilt the bill toward the light. Examine the left side of the bill. You should see a thin strip containing multiple corresponding bill denominations and maple leaves in newer bills. The denominations and maple leaves appear to move up and down when you tilt the bill back and forth.