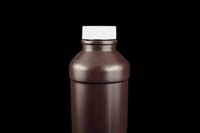 If you suffer minor gum irritation or inflammation, a healing mouthwash made from simple hydrogen peroxide can help your mouth heal. Whether you have an injury, canker sore infections or you are recovering from a procedure in your mouth, hydrogen peroxide can help keep your mouth clean, which can reduce infection and complications. The U.S. National Library of Medicine recommends using hydrogen peroxide as a mouthwash rinse to treat mouth sores.
Things You'll Need
3 percent hydrogen peroxide
Mix about 1/2 oz. hydrogen peroxide with 1/2 oz. cool water in the small glass.
Pour the diluted hydrogen peroxide into your mouth and swish the liquid around your mouth.
Continue swishing the liquid in your mouth for about one minute then spit it out.
Repeat the hydrogen peroxide mouthwash up to four times in a 24-hour period. Rinsing after meals can be especially effective.