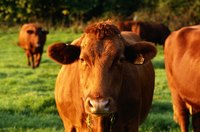 Commodities futures are a bet on whether a product such as orange juice, beef or wheat will rise in price. Investors take out a contract to buy or sell commodities at a preset price and date. When the date rolls around, a buy contract that lets you invest below the market price is a winner. If the market price is lower than your contract price, you lose. You report the results as a capital gain or loss.
Gains and Losses
Contracts are a zero sum game -- for every buy contract, there's also a seller. When you complete the contract transaction, you report any profits as capital gains on IRS Schedule D. Losses go on the same form. You write off losses against capital gains from other transactions. If you have a net capital loss, you deduct up to $3,000 as of 2014 -- $1,500 if married but filing separately -- from your non-capital income. You carry over the rest of the loss to next year.
Hedging
Hedging transactions in commodities are recorded in your return as ordinary income or loss rather than a capital gain or loss. A hedging transaction is one you make to protect against interest rate fluctuations or price changes. You have to prove to the IRS that your investment qualifies for this exception.