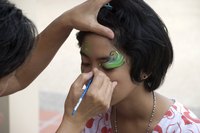 Many brands of face paint, a product most commonly used on young children, have recently come under fire from the Campaign for Safe Cosmetics because they contain lead, a toxic metal known for causing neurological damage. If that is not reason enough to create your own organic face paint, keep in mind that you can use this project to distract fidgety children, while keeping them from potentially dangerous products.
Things You'll Need
1 1/2 tbsp. cocoa butter or thick organic lotion
Organic food coloring or bright flowers and berries
Mix the lotion and cornstarch to create a thick paste. Use your preferred thick lotion that is organic and hypoallergenic to avoid rashes.
Add food coloring a drop at a time to the paste and mix it in until you achieve the desired color. If using a natural dye alternative like berries or flowers you may have to follow a different process to release the color. You can squeeze pomegranate seeds, but a quick way to a deeper shade is to use a blender to make a juice and use a few drops to color your paste. You can also squeeze or juice berries of most types. Boil flower petals in water in a small container in a microwave to release the color. If working with children, using prepackaged food coloring is the easier option.
Apply the paint to your face.