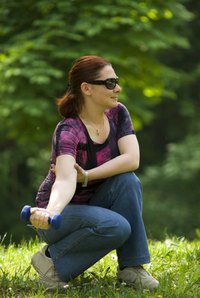 Being overweight can negatively impact a woman's self esteem. Reminding your girlfriend that she needs to lose weight could put a strain on your relationship. Weight Watchers reports that couples who work on losing weight and changing their eating habits together are more likely to be successful than those who tackle the issue alone. Making lifestyle changes with your girlfriend, whether or not you need to lose weight, could help her shed extra pounds and strengthen your relationship.
Join a gym, and schedule workout sessions together. Schedule workout sessions with your girlfriend at least three times a week. Use weight lifting and cardio machines together. Whenever you work out, compliment and encourage your girlfriend on her physical fitness skills, rather than her appearance and energy level. Make an appointment for two with a personal trainer. Talk openly to the fitness trainer about your fitness goals, so that your girlfriend does not feel like she's being singled out.
Take long walks together. Instead of spending hours sitting in restaurants and movie theaters, especially on weekends, take walks. Although you can take long walks in the park, nontraditional opportunities to walk include shopping at outdoor malls, browsing in art museums and visiting outdoor historic sites. Such leisurely activities can keep you and your girlfriend on your feet and moving effortlessly for hours at a time.
Throw out your junk food. If you and your girlfriend do not live together as a couple, invite her over for healthy meals, and fill your refrigerator and pantry with healthy snacks such as yogurt cups, fruit, vegetables, nuts, whole wheat crackers and cheese. If you live together, although you might not be able to throw out her favorite fattening foods, you can prepare tasty, healthy meals that include fresh vegetables, whole grains, and lean cuts of meat and fish.
Negotiate incentives. Offer to purchase your girlfriend something she really wants when she sticks to her weight loss goals. Such incentives could include, but are not limited to, clothing, jewelry, electronics and vacations. Offering rewards that your girlfriend can redeem in the future allows you to save the necessary funds to make good on your promise.