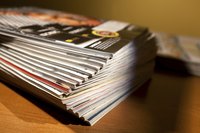 Canceling unwanted subscriptions can take time, and in instances where vendors refuse to stop the subscriptions, customers can only put an end to the charges by placing stop payments. Many customers unwittingly sign up for unwanted services when they inadvertently check boxes agreeing to the charges when making legitimate online purchases. In other instances subscriptions are related to fraud and the victims often see significant sums of money leave their accounts before the payments are stopped.
Contact the company that charged your account for the unwanted subscription and explain that you did not request the service and need to cancel it. If you are unsure which company made the charge, you can ask your bank. Banks typically receive contact information from vendors making electronic charges. If you mailed a check and later decided to cancel a subscription, you should not place a stop payment on the check unless the vendor agreed to the cancellation. If you stop a check that a vendor received and deposited in good faith, you might fall foul of state fraud laws.
Mail a letter to the merchant confirming your request to stop the subscription. Keep a copy of this letter on file. If the service stops, then you do not need to place a stop payment. If the service does not stop or you cannot reach the vendor you must go to your local bank to place the stop payment.
Provide the bank representative with the amount of the charge, the company name and any other information you have pertaining to the charge. Also give the bank a copy of the letter you sent the vendor. The stop payment takes effect within 24 hours of placement. You must complete an affidavit detailing the reason for the stop and the bank can pursue the vendor for refunds of any previous unauthorized charges. If you are stopping an actual check with the consent of the vendor, give the check number to the banker as well as the other information.
Check your bank account on the next business day to ensure that the payment did not post to the account. If it did post, you must contact your bank and, depending on state laws, the bank may have to reimburse you for the amount of the charge.