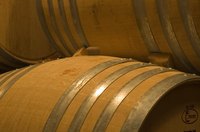 Oak barrels used for wine storage can last for years with diligent maintenance. Always keeping the barrel full of wine is the best way; however, some small producers or home winemakers might not have enough product to do this. Keeping a barrel oxygen-free by adding sulphur means lessening the chance for the growth of bacteria and mold. The barrel storage facility might cause additional maintenance needs. Arid conditions allow barrels to dry out, letting SO2 (sulphur oxide) escape and bacteria to grow.
Things You'll Need
Sulphur stick, 1 by 3 inches
Match
Rinse out the barrel with hot water, followed by a cold rinse from a hose. The rinse is to rid the barrel of residue, like tartrate crystals. These result from tartaric acid coming in contact with potassium during the wine fermentation. Let the barrel completely dry.
Remove the bung (stopper) from the barrel. Cut a piece of wire long enough to wrap around a sulphur stick. Light the sulphur stick with a match and suspend it down into the barrel. Put the bung in loosely to let the gases escape. This action removes all the oxygen in the barrel, which can lead to bacteria and mold buildup. The burning process takes less than five minutes, depending on the swiftness with which the oxygen is depleted. Remove the wire and tightly replace the bung. Repeat this process every six weeks, unless the barrel is filled with wine.
Fill the barrel halfway with 100-degree Fahrenheit water. Roll the barrel until it reaches a temperature of 70 degrees Fahrenheit. This procedure is essential if you store the wine barrel in an arid climate. Let the barrel dry, and repeat the sulphur stick process.