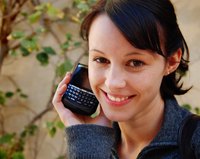 Verizon offers small business owners the opportunity to purchase franchises through Verizon's exclusive partnership with Wireless Zone. Selling every type of Verizon cell phone and accessory, Wireless Zone gives franchisees the strength, reliability and support of the Verizon network and brand. To get your store up and running, you'll need to meet several criteria.
Things You'll Need
Franchise application
Store site
Contact Wireless Zone's franchise development department at 866-390-4447. They will contact you for an informational interview usually within 48 hours. During the phone interview, you will have the opportunity to ask pertinent questions about developing a Wireless Zone Verizon store.
Ensure you have adequate capital. As of 2011, Wireless Zone estimates that it costs between $84,250 and $193,500 to open a single store.
Fill out the franchise application. You can do this online or submit it by regular mail. As part of the application process, carefully review the Franchise Disclosure. The Federal Trade Commission requires Verizon and Wireless Zone to disclose all the legal responsibilities and liabilities of their companies to the franchisee.
Find a suitable location for your store. Wireless Zone will assist you in selecting a site for your store that will give you the optimum opportunity for success. Select a site in an area that is considered a protected market due to the distance between your location and other Verizon stores. Create a time line for the opening of your store with the help of your franchise coordinator.
Go through Wireless Zone University training. This two-week program is conducted either at Wireless Zone's headquarters in Middletown, Connecticut, or in one of its regional training centers. Training takes place in both the classroom and in a retail setting to give franchisees hands-on experience.
Coordinate with the advertising and marketing departments to plan your store's grand opening. Wireless Zone supports its franchisees' efforts with targeted advertising, marketing campaigns and website development. Take advantage of the advice of Wireless Zone's field support representatives on marketing and retail practices to ensure your Verizon store is a success.