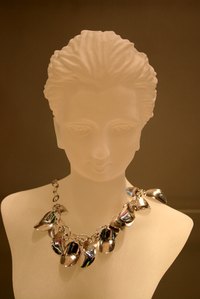 Accessories can make or break an outfit. Update your look with an interesting piece of jewelry or wear a conversation piece. A chunky necklace can enhance your look or end up distracting from a beautiful top. Make a bold or subtle statement with a chunky necklace. Just be sure to wear the right necklace with the right outfit. If you wear it wrong, a chunky necklace still draws attention, but not the kind you want.
Choose your necklace according to your personal style. Chunky necklaces are available in several different lengths, colors and materials.
Pair a thick, colorful necklace with a solid top that has a simple neckline. This keeps your look from being too busy and highlights your necklace.
Match your necklace with similar accessories. If you wear a tribal-inspired necklace, pair it with strappy sandals and a rugged leather purse or beaded bag. If you prefer sparkle and glamour, pair your crystal necklace with a plain colored T-shirt and dark denim jeans. Wear that same necklace for dinner out with a simple shift dress and elegant purse.
Wear a flowing, billowy top with a heavy, chunky necklace. The weight of the jewelry will keep the shirt close to your chest, giving you some shape, while the lower part of your shirt still flows free.
Eliminate all other jewelry except your engagement/wedding ring. If the rest of your outfit is fairly neutral, you can wear a single bracelet or cocktail ring. Too many accessories with a chunky necklace take away from its stylish effect.