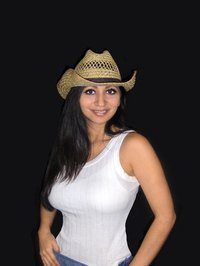 Tank tops are very practical summer wear, but for many women, they seem to lack flair. One way to jazz up tank tops, while maintaining their trademark comfort, is by adding flutter sleeves. Flutter sleeves add a playful, cheery touch to an otherwise plain top. What's best is they spruce up the tank top's look without compromising it's wearability. Easy to attach, flutter sleeves truly extend a tank top's usability.
Things You'll Need
Purchase fabric of your choice from a local crafts shop or fabric store. Make sure your fabric is a similar material to the fabric of your tank top. Most likely, you will want some mixture of cotton and polyester.
Cut a rectangle 7 inches wide and 3 1/2 inches long from your fabric.
Fold the fabric in half lengthwise. Iron the fabric to smooth it out. After folding, your fabric should be shaped like a more elongated rectangle and measure 7 inches wide by 1 3/4 inches long.
Cut the open side (opposite of the crease) with scissors, removing entirely the two corners opposite the crease. Rotate your wrist slightly while cutting so that the end result is a slight curve, rather than a straight cut.
Sew the curved, open side of the fabric together with a long stitch.
Slide a bobbin thread through the fabric, keeping it as close as possible to the creased edge of the fabric. At this point, your fabric should be shaped like an arch and be closed on both sides.
Turn your tank top inside out. Use pins to attach the fabric to the sleeve of the tank top. Make sure the sewn-together end, not the creased end, is pinned to the shirt. The creased end should be facing away from the shirt.
Sew the fabric to the sleeve and turn the tank top right side out.