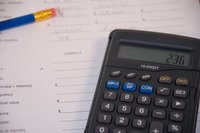 An evaluation plan is a necessary component of any business project. Every project that a business undertakes should have a goal (be it financial, logistical or technical) that contributes in some way to the company's bottom line. In order to track the success of a project, an evaluation plan is needed to assess the project's effect on the bottom line. This is especially true of Human Resources (HR) and product development projects, where the financial outcome cannot be directly measured. Luckily, with a bit of resourcefulness, you can design an evaluation plan that works for you and your business.
Things You'll Need
Clearly state the objective of the project you will be evaluating. If the project is a sales campaign, the objective will be to generate a certain amount of revenue. If the project is product development, the objective will be to create a product that will eventually generate revenue. If you are the owner of your own business, you will determine the project objectives yourself. Otherwise, consult with your manager. Clear objectives are especially important for projects that do not yield immediate financial returns, because the outcome of these projects needs to be tied to their anticipated future effect on the company's bottom line.
Break the program objective down into smaller goals. Every objective, financial or otherwise, can be broken down into smaller components. For example, a project intended to increase sales by 25 percent per year, can be further evaluated by criteria such as return on investment for a marketing campaign designed to increase sales, employee productivity on the project, and results vs. industry average. Breaking objectives down into goals will help you let employees know how they performed. It will also give you some idea of what to do and what to avoid doing on similar projects in the future.
Decide how you will collect information for your program evaluation. After breaking down your objective into smaller goals, you will need to come up with a way to measure success for these goals. Financial goals can be measured with financial statements, but goals in HR, Research and Development (R&D) and marketing are more subjective. Questionnaires, interviews, observation and document reading can be useful tools for gleaning information about how a project went. Interviewing employees and customers can be a great way of determining the performance of HR and marketing, respectively.
Break down the types of data you will be analyzing for the project evaluation. Most reports include financial figures, employee productivity statistics and employee/customer satisfaction ratings gleaned from surveys. Subjective ratings need to be converted to measurable figures for the purpose of data analysis. Therefore, make sure that any survey you conduct is based on numerical ratings and "yes/no" questions, rather than open-ended questions.
Prepare a template for the evaluation. This should include a title page, table of contents, method disclosure, data presentation, data analysis and final conclusion. Make sure that you have a way of bringing together different types of results into an overall score, i.e., by computing averages for financial, management and marketing results.