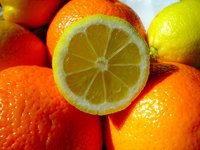 Making homemade body sprays and lotions is a conscious, creative and earth-friendly way to acquire bath and body products. Using natural ingredients reduces the risk of an allergic reaction that sometimes occurs with manufactured items. Packaging homemade creations in reusable containers, which might otherwise contribute to the landfill crisis, is a form of recycling. Saving money, learning to be self-sufficient and using creativity for a practical application is worthwhile.
Making a body spray from fresh lemons, with the optional addition of other fruits, is simple but the overall process takes time. Complementary products like body scrubs, lotions and creams can also be made from lemon and other fruits.
Things You'll Need
Distilled water
Vodka
Lemon essential oil
Fresh lemon peel
Fresh orange peel (optional)
Mandarin essential oil (optional)
Orange essential oil (optional)
Small strainer
Dark or opaque bottle or jar
Knife
Chopping board
Measuring cups
Measuring spoons
Airtight container
Small funnel
Glass bowl
Rinse and dry fresh fruit. Remove outer skins with a knife. Try not to remove too much of the white pulp.
Chop skins into small pieces on the cutting board. Measure 1 teaspoon of each type of skin, putting them into the airtight container.
Measure 3 tablespoons of vodka. Add vodka to the citrus peels. Cover and put aside in a cool, dark place for seven days.
Strain the peels over the glass bowl. Discard peels. Mix five drops of lemon essential oil, 10 drops of Mandarin essential oil and 12 drops of orange essential oil into the citrus-infused vodka. Blend in 2 cups of distilled water.
Funnel the fusion into a bottle or jar. Put on the lid. Shake and place in a cool, dark place. Shake the mixture once per day for about 18 days without removing the lid.
Funnel the body spray into a decorative spray bottle. Use as desired.