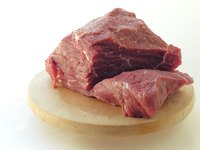 Many followers of modern raw-animal-food diets will come across the writings of Dr. Aajonus Vonderplanitz at some point in their research. And chances are they will come across one of the few truly unique ideas he brings to the modern take on this ancient diet. This idea is "high meat," or purposely rotted meat. Commonly made and eaten with the purpose of increasing healthy intestinal bacteria as well as overall mood, this unusual dietary practice has been used throughout the world and history in various ways, including by the Inuit of Northern Canada, who rot salmon and seal blubber. Making it yourself at home isn't too difficult.
Things You'll Need
Very large Ball or other mason jar(s)
Organic, grass-fed beef or organic pasture-raised chicken
Cut the organic beef or chicken into small chunks.
Place the chunks of meat in the jar; air it at least every 3 days. Airing keeps the bacteria moving and is necessary to advance the bacteria through all the stages of decomposition. Only air outside, as the smell of the rotten meat can linger in your home for more than 24 hours.
After 1 month of frequent airing and rotting, begin sampling marble-size amounts of the now somewhat "high" meat daily. It will taste a putrid and may stir up past feelings of fear of food poisoning, maybe even to the point of inducing a panic attack. But within 10 to 20 minutes, you should begin to experience a positive and drastic change in mood and energy levels. Vomiting and diarrhea are very rare — and amongst those who have actually eaten high meat made from, immaculate-quality meats, those who have reacted in such ways felt improved health after very short, mild bouts of those symptoms. There have been zero recorded cases of people eating properly made high meat and becoming ill and dying.
Continue to air the meat at least once every 3 days for as long as you desire. Earlier on the rotten meat will be a paler brown; as time goes on, it will acquire gangrene around the edges of the jar. Eventually, white mold may start to form, and, according to Dr. Vonderplanitz's personal accounts, the rotting meat can turn blue or purple or even completely liquefy. Dr. Vonderplanitz has consumed up to 1 lb. of 2-year-old rotten meat without any negative consequences. He also recommends skimming off any mold that forms on the meat, although, he claims, it will not harm you.