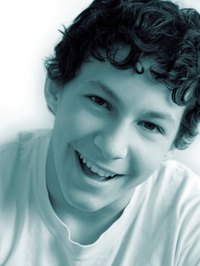 Teenage boys who play a lot of sports, or those with a high metabolism, may be underweight and consequently advised to put on weight by their doctor. Teens that burn calories more quickly than they consume them may not be getting adequate nutrients, protein, fats and minerals that their bodies need to grow strong and healthy, but there are a few easy steps you can take to help your teen put on weight in a healthy way.
Use whole fats. Replace your teen's skimmed milk and low-fat dairy products with whole fats. Let him enjoy full-fat ice creams and offer him regular glasses of milk. Sprinkle full-fat cheddar cheese over burgers and salads and serve potatoes with sour cream. Give him healthy smoothies made with fruit and yogurt for breakfast and add yogurt and cream to his desserts.
Eat a balanced diet. A wholesome diet is essential for healthy growth, so be careful not to forget about fresh fruit and vegetables when helping your teen gain weight. Offer him foods from all the food groups, including whole-grain pasta, bread and rice, legumes, fish and lean meat and poultry. If your teen is a vegetarian, offer him more protein-rich foods, such as tofu, lentils, beans and other pulses.
Eat more. If your teen typically eats small portions, slowly increase the amount of food on his plate. Try adding fruit to breakfast cereals, or add an extra side dish to his favorite meals. Allow him to slowly graze throughout the day, as he may consume more this way. Give him healthy snacks to take to school, such as nuts and seeds, whole-grain crackers and oat biscuits. Bananas, avocados, dates and dried figs also make tasty, high-fat snacks.
Train. Find a certified instructor to help your teen engage in strength training exercises, but don't let him overdo it. The website TeensHealth warn that some boys will stay lean their whole lives, so make sure your son understands that working out won't necessarily bulk him up.
Get a good night's sleep. When your teen sleeps, his body releases growth hormones that enable his bones to grow and develop. It is essential for his growth that he gets a good night's sleep on a regular basis, so make sure he gets eight hours of sleep each night.