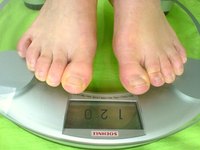 If you are aiming to lose weight, keeping records of your weight loss can be a great motivational factor. These records can also reveal when you have hit a weight loss plateau. The only information that you need to include in your records is the date and your weight on that date. The Mayo Clinic advises that you weigh yourself no more than twice a week and that you weigh yourself in the morning.
Chose the medium in which you want to chart your progress. Some people prefer pen and paper. Others prefer to keep information on their computer. If you chose to use your computer, either a text file or spreadsheet will work.
Set up two columns. One column is for the date, and the other column is for your weight.
Enter the dates on which you plan to weigh yourself in the first column. The first date should be for the day following the date you set up your chart.
Weigh yourself in the morning and record the weight on your document. Follow this procedure twice a week for the duration of your weight loss program.