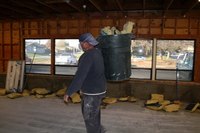 Insulation is a device used to block drafts and reduce heat loss from buildings. Walls and attics must all be insulated to increase energy efficiency. Insulation can be made of chemicals, fiberglass, newspaper, denim, wool or mushrooms. Businesses that sell and install insulation can offer a wide range of products or specialize in installing one type of product. An insulation business can sell more product through increased marketing, establishing partnerships with builders and selling environmentally sustainable insulation products.
Develop a marketing plan to sell more product. Identify your target customer. Assess what circumstances or desires would motivate the customer to purchase insulation from you. Customer insulation needs may include a desire to replace existing insulation with sustainable insulation types or a building remodel that will call for new insulation.
Examine your current marketing strategies to reach the target customer. Assess the competition's efforts to reach your target customer. Evaluate how your business can offer a better product, better service and a better price than the competition to gain more market share. Confirm the amount of funds available in the company's budget to spend on expanding product offerings and increasing advertising expenses.
Market the business through print and online media. Advertise through Facebook to reach customers who are working on home remodels in your area. The cost for advertising on Facebook is on a per click basis. You can predetermine how much you are willing to spend when establishing your ad. Develop a website to garner attention to your business from search engine traffic. Send postcard fliers through the mail or via local ValPaks, which are mailers full of coupons from local businesses, to set yourself apart from competitors.
Establish partnerships with local builders to be the exclusive insulation contractor for all new jobs by that builder. Present the value of using your company over local competitors to building companies. Highlight your service record, the number of certified installers you employ and the products you use as an incentive to partnering with your firm. Offer a bulk rate discount price for installing insulation in a set number of homes. Sign a contract with the builder guaranteeing a certain number of insulation installs over a specific period of time at the negotiated price.
Focus on selling environmentally sustainable insulation products. Spray-foam insulation made of soybeans, sheep wool pads, sheets of mushroom-based Greensulate insulation and foil-based radiant barrier are increasingly popular. The cost for expanding the service to eco-insulation may be more up-front, but can result in an increase in insulation sales. Environmentally sustainable insulation materials are often a choice for consumers who seek available tax credits. Such insulation is also considered more effective at maintaining energy efficiency.