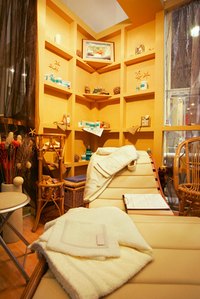 A successful salon isn't built on styling talent alone. Organization and sound business practices are primary factors in salon success, and part of sound business practices is keeping your inventory stocked and maintaining a constant supply of products. From shampoos and conditioners to developers and peroxide, a prosperous and professional salon must always have appropriate products on hand. Keep your salon stocked and profitable by working closely with your suppliers and keeping detailed product inventory records.
Things You'll Need
Inventory software
Salon management software
List of retail product manufacturers and distributors
Review your retail sales and salon services for the previous month. Calculate the number of products used and sold. In order to keep a constant supply of product and depending on your available cash flow, add 10% to 15% more product to your order. Use these numbers as an inventory baseline.
Enter the brand names, sizes, and types of your salon products into a salon management software program. Create two separate inventory control lists. One devoted to retail products and the other specifically designed for products used during client services. If you do not have specialized software, create an Excel spread sheet listing products by type, size, and brand.
Carefully count and record all the products in your salon. This inventory includes products located on retail shelves, the stock room, the shampoo area, the stylist booths, or any products stored off site in your home and storage facility.
Record the exact number of full, half-full, and quarter full products in the appropriate inventory control spreadsheet.
Determine the amount of products needed to meet your inventory baseline, and place product orders with manufacturers or distributors.
Use the revenue generated from your retail inventory sales to purchase your next order.