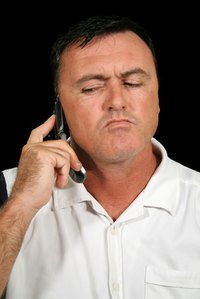 Although cell phones are now commonplace, there are no distinct rules of etiquette for dealing with people who talk on their mobile phones during other activities. Establishing clear policies on how to deal with customers talking on cell phones can minimize controversy among employees and prevent damaging public relations from rude comments to customers. Maintaining a clear and effective policy is key to good relations.
Things You'll Need
Establish rules about cell phone use within the store and communicate them with all managers and employees. If all employees are aware of the rules, it makes enforcement easier.
Hang a sign in the store stating that cell phone use is not permitted when customers are interacting with employees at the counter or on the sales floor. Point out that this rule shows respect for all customers' time.
When a customer is on his phone, politely tell him that you cannot help him while he is on the cell phone, but you will be happy to wait on another customer during the duration of the call.
If the customer continues to talk on her phone while wanting to be assisted, point out the cell phone use sign and politely insist that you cannot assist her until she is no longer on the phone. Do not apologize for the policy, but state it as fact as pleasantly as possible. Remember, you're there to serve customers even if they are being rude.
If the customer still will not hang up the phone, call a manager over to deal with the situation.