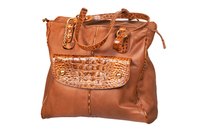 A designer handbag is an investment, and with the prices of these bags ranging from anywhere from $500 to $10,000, you should protect it. Preservation becomes especially important if you plan to resell your bag; you won't get back much on your investment if the bag is damaged or soiled. While prevention of dirt, oil, grease and other stains is key, after your bag has acquired fingerprints or pen streaks, you can remove them.
Things You'll Need
Designer purse
Weather protectant spray
Clean rag
Leather or suede soap
Read the guide that comes with your bag; most designer bags come with a care booklet that includes cleaning and treatment instructions. If you are instructed that water or polish is okay, continue cleaning. Otherwise, go back to the store and discuss cleaning techniques with the salespeople, who are often knowledgeable about the topic. If your bag is leather, treat the bag as soon as you buy it with a leather spray to provide a protective layer on the leather. You can often buy this spray directly from the bag seller.
Dab leather or suede soap onto the clean rag and carefully touch up any spots on your bag. Don't scrub or rub; instead, allow the soap to soak in for a minute or two. If your bag is straw, use a tiny dollop of soft hand soap.
Wipe away excess soap with a damp, clean spot on your rag.
Allow the bag to dry and re-treat it with leather conditioner (if the bag is leather) by wiping a thin layer over the entire bag with the clean cloth. Check the manufacturer's instructions, but leather conditioner is often safe for use on some types of suede.
Clean the fabric lining of your purse in a similar fashion. Pull the lining out of the bag if possible to make cleaning the inside easier and prevent dampness from affecting the outside of the bag.