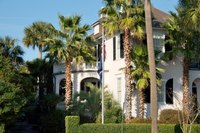 A millionaire's club is just what it sounds like: an exclusive organization that restricts its membership to those who are millionaires. These types of clubs were created so that those with a high net worth could network and meet others in similar situations. These groups can be formed with different purposes in mind, such as business networking or investment groups. If you have a high net worth, you may see advantages in joining one of these groups and should learn what is involved in the application process.
Find clubs that you are interested in joining. Because these clubs don't advertise in mainstream media, you can look online for some options, or better yet, network. Talk to colleagues and peers and see if they know of, or are members of, organizations of this type. Read the high-net-worth publications such as "Worth" and "Asset." Different types of millionaire clubs have different purposes in mind, and not all of them might be for everybody. Make sure you find a club with a mandate or mission that you find exciting. For instance, if you want to find a club for business networking, you need to actively look for that type of club. If you are looking for an investment club for high net worth individuals, you need to look for that type of club. You can also look for some of the exclusive millionaire clubs that make adventure, luxury and fun the theme of their organization.
Find out what the net worth requirements are to apply for membership. Some millionaire's clubs only require a net worth of a million dollars, but others require a higher net worth. For instance, the Richman's International Millionaire's Club requires a net worth of 15.2 million dollars to apply for membership.
Find out how many memberships are available in the club. Some clubs may have capped memberships, and you may have to wait until they open up to new members or until another member releases his membership before you can join. Memberships can also be purchased from existing members who want to leave.
Prepare any documentation that is required for application. Some millionaire's clubs may require that you prove your net worth before you are accepted as a member. You may need to prepare a financial statement that proves that your assets exceed your liabilities in the amount required to be considered for membership.
Submit your application according the instructions provided to you by the club. Remember that there are sometimes criteria other than wealth that are looked at during the application process. For example, you may be asked to provide letters of character reference to be considered as a member. A recommendation or invitation from a current member might also be required.