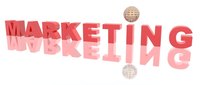 Marketing research is necessary in order to conduct a market analysis. Research is performed through systematically gathering and recording data that is collected from reliable sources about issues relating to marketing certain specific products and services. After conducting marketing research, components for analysis are identified in order to assess how to address various elements of marketing strategies.
Define the marketing issue by identifying and defining the problems that are being addressed and need to be resolved. Some issues may include launching a new product or service; raising awareness of a company, its products or services or increasing the utilization of a company's products or services; improving distribution; or repairing a poor company image or reputation.
Conduct primary research on a sample of the population that addresses the issue you wish to analyze. Use the sample size that time and resources allow. A sample as little as 1 percent of a target audience is sufficient. Research methods include conducting surveys with questionnaires, hosting focus groups and personally interviewing people and companies of interest. Note all of the results in chart form or design a narrative guide.
Use secondary research techniques by collecting data from related studies, article topics or previously gathered demographic or statistical data. For example, to find business information, use a resource such as the local Chamber of Commerce, which generally has reports with useful regional business data readily available. Secondary research activities may also include gathering data from your target market's magazines, books, research and government publications, much of which is available online.
Since secondary research already exists, there is no data collection needed other than locating the information and verifying that it was validly collected.
Employ qualitative research techniques by gathering descriptive information that usually represents verbal or narrative data. This is collected through open-ended interviews or focus groups. Compose questions for open-ended interviews that cannot be answered with just a simple yes or no.
Have focus groups conducted by professionals who are skilled in leading small groups of six to 12 people. Use a thorough series of questions ranging from specific to general over the course of at least an hour.
Conduct quantitative research by gathering numerical information that may be analyzed statistically through surveys. Create surveys that address the issues that connect to the purpose of your research. Collect survey information through varied distribution methods, including customer contact at sales locations, on the phone, via email and in the U.S. mail. While surveys can take longer to develop, they are generally easier to administer than many other types of market research. Surveys can also provide excellent information when constructed well with thoughtful questions.