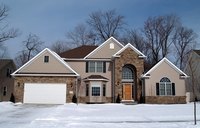 When an MLS property listing is taken off the market, related information remains on record and is available to interested parties. The phrase "off the market" refers to a property with an expired listing contract, originally made between the property owner and the listing agent. You can complete an offer to purchase a property with an expired listing. Property listings expire for many reasons and avenues exist to help you locate information about an expired MLS (Multiple Listing Service) property.
Write down the property's complete address and check the National Association of Realtors website. Information may remain available for off-market properties.
Visit a Realtor who has access to MLS data. He has the capability to search for older or archived listings.
Contact the mortgage specialist where you bank. These financial professionals have easy access to estate information.
Arrange an appointment with the property owner, who may welcome your inquiry.