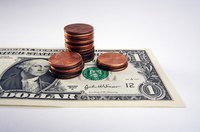 There are many ways to make money, classified as active or passive. Active moneymaking endeavors are classified by an active involvement in the process, including a regular job, stocks and investments. Passive money making involves depositing money in endeavors such as savings accounts, bonds and treasury bills. Passive methods acquire money through interest. Interest is accrued by allowing the bank to use your money and, in return, to pay supplemental payments to your deposit.
Choose Type of Deposit or Investment
Determine the type of interest-bearing account you wish to invest in: a savings account, bond or treasury bill. Each of these investments accrue interest and allot money to the depositor in different ways.
Research the variables involved in each method.
Determine how many methods or which type to use for your investments. Savings accounts vary in the amount of interest and length that they accrue interest, and can usually be ended at any time. Treasury bills last for four to 52 weeks, but don't pay out as much interest as other methods. Bonds have a maturity of 30 years, but pay interest every six months. It's a good idea to diversify your investments in several methods, so you fully capitalize on your investment or deposit.
Savings Account
Determine the type of interest you wish to accrue on your savings account. The various types of interest that can be accrued through a savings account include: simple, compound, fixed, variable, normal and real. Each type of interest compiles additional money on top of your deposit.
Check multiple banks and their types of savings plans. When incorporating a large sum of money into a savings account, the slightest difference in overall percentage and type of interest can strongly impact the amount of money received.
Open a savings account offering the type of interest you wish to accrue through your deposit. You might open several similar accounts in various banks to protect your deposit, leaving a maximum of $250,000 in each. This ensures that each account is protected by the FDIC's depositors insurance. This method will reduce the overall amount of interest accrued by your deposits.
Leave your money in the savings account. If you withdraw money, it reduces the amount of interest accrued by your deposit. As your deposit earns interest, the interest amount increases every interest term, due to the increased amount in your savings account. If you need to withdraw money, leave as much money in the account as possible.
Treasury Bills
Set up a Treasury bill account with either your bank or treasury. This allows you to consecutively buy Treasury bills, after the first batch matures.
Determine the set maturity time for your treasury bill, either four, 13, 26 or 52 weeks.
Determine the amount you wish to pay at auction for the Treasury bill. Treasury bills are sold in increments of $100, meaning the least expensive treasury bill is $100.
Place either a competitive or noncompetitive bid on the treasury bill. A noncompetitive bid means you agree to a set discount rate, but are guaranteed to receive the treasury bill you bid on at auction. In a competitive bid, you decide what discount you want on the bill. If the discount is less, you pay the amount you specified, if it's more you pay the increased amount and your bid may be rejected.
Wait for the treasury bill to mature. You'll receive the bill's face value and the discount you received upon purchase will be the interest. For example, a $100 treasury bill bought at a discount of $95.50 will pay the buyer back $100, with an interest of $4.50.
Bonds
Set up an account with either the Treasury, your bank or broker to purchase and collect interest on the bond.
Determine the bond's value and place a competitive or noncompetitive bid. A noncompetitive bid guarantees you receive the bond, but the bond's accrued interest will be determined by the auction. A competitive bid lets you set the interest amount you want--if the bond's interest set at auction is higher, you only receive your specified amount. A competitive bid can only be placed through a bank or broker, not the Treasury.
Wait for the bond's maturity date. Bonds mature after 30 years, and pay the buyer the bond's face value. The bonds do accrue interest every six months, which is paid directly to the buyer at the end of the six-month period.