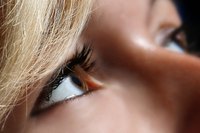 Lush, thick eyelashes are a staple of most celebrities' and models' beauty looks, and most of them depend on false eyelashes to achieve them. But if you're like most busy women, you simply don't have the time in your daily routine to apply false lashes, which is a process that can be painstaking and takes time to perfect. Achieving the look of enviably thick lashes is still possible without false lashes, it simply requires the right tools and supplies and five minutes or less.
Things You'll Need
Eyelash curler
Eye liner
Cotton swab
Grip your upper lashes with your eyelash curler as close to the root as possible and hold firmly for ten seconds. Curling lashes adds instant thickness and length.
Move the eyelash curler slightly away from the roots, clamp, and hold for another ten seconds if your lashes are especially straight.
Line your upper and lower eyelids with a dark brown or black eyeliner. The key to using liner to enhance eyelash thickness is to carefully dot your eyeliner in between each individual lash all along the upper and lower lash lines. Gently smudge the liner with a cotton swab to keep the look natural.
Apply a volumizing mascara to the upper lashes, beginning at the roots and working your way out to the tips slowly. Volumizing mascaras contain thickeners like collagen that cling to lashes, thereby creating the illusion of thickness. Let the application dry for a minute.
Apply a second coat of mascara to your upper lashes and let dry. Press the mascara wand gently at the roots of lower lashes for a touch of volume.
Comb through your lashes gently with an eyelash comb to remove clumps and keep the look natural. For added thickness, curl lashes again after you apply mascara.