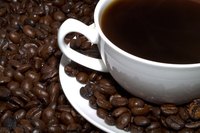 Coffee roasting cafes offer customers the freshest coffee experience available and make coffees from all over the world right on location. If you want to start your own coffee roasting cafe, you must invest in the proper equipment and create an enjoyable atmosphere for customers. There may even be some training you need to complete before you can create the right coffee experience at your cafe.
Things You'll Need
Coffee roaster
Paper cups
Build a comfortable atmosphere. Coffee drinkers want a relaxing place to drink their coffee and chat with friends or read a book. Bright colors and light music will give your cafe a pleasant feel. The lighting should not be too bright and noise distractions should be kept to a minimum. Your most important job is to keep the coffee roasting to put out its pleasant aromas into the air.
It may also help to provide a very "local" atmosphere where customers feel your cafe gives them a place to relax that is involved in their local community. This is a great way to compete against the large coffee chains that give more of a franchise feel to them. Show your pride in the local community by displaying photographs and other artifacts celebrating the area. You can also put up a bulletin board for customers to post about local events.
Purchase a high quality coffee roaster. Since you will be running a cafe, invest in a large coffee roaster that can service a large batch. While the largest home roasters are 25-pound roasters, your cafe will need at least a 50-pound roaster.
Stock supplies for customer service. Get plenty of paper cups, napkins, and drink holders for your customers to use.
Sample coffee beans from a variety of wholesalers and from different countries. Coffee beans all have different tastes and textures. Try out a variety so you can determine the right taste for your cafe.
Mix your own unique flavor combinations. There are hundreds of different coffees and dozens of flavors to choose from. The possibilities are endless for flavor exploration. Let your customers decide what they like by putting on taste-testing shows for customers to try your newest flavor creations.
Apprentice with a veteran coffee roaster if you do not already have roasting experience. This will help you learn the nuances of the business and teach you how to get the most out of your roasting machines. It is good business practice to benchmark a successful roaster on such things as appropriate portions of coffee and in-store marketing presentations.